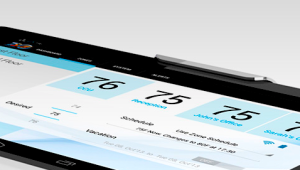 It's hard to look much into LED options without also exploring the ability to automate the technology. The more prevalent LEDs become, the more their abilities continue to expand well beyond just "on and off". A new market is emerging for Scottsdale businesses to consider, and it's an idea that would not have been imagined by lighting technicians from decades ago. New lighting systems for businesses include automated and internet-connected lighting "accessories" that give the owner much more control over how the lighting is used and how the energy dollars are spent.
Hello, Igor
Of the new entries into the lighting accessories market, Igor provides interesting alternatives for businesses throughout Scottsdale to existing lighting control options. While we have explored systems like Phillips Hue and GE-Link before, Igor provides an even more expanded smart-phone or tablet controlled option that includes additional products that make it possible to reduce the lighting usage for an entire business.
Igor offers controls similar to the other options: The bulbs can be turned on and off from an app, and the app further allows users to program the bulbs on a schedule. What sets it apart, is that the programming allows Scottsdale business owners to control more than just the bulbs Igor can talk to other devices like daylight sensors or motion sensors in order to determine how to light the room.
Igor's Flexibility
If Igor is connected to a motion sensor and the lights are also on a schedule, then the energy efficiency will go up in two ways. If the system in your Scottsdale office is set to turn on between 7 a.m. and 5 p.m., then it will be ready to turn on at that time. By working with the motion sensor on the system, however, the lighting won't just stay on if there isn't any movement. The system now has two criterion to follow in order to light the location, and that means that offices aren't being unnecessarily lit during lunch breaks or sick days. When an employee steps out for a two hour meeting, the Igor motion sensor recognizes that and turns off the bulbs until there is motion upon someone's return.
One of the more interesting innovations with Igor is the combination of the automated lighting for indoors with options that are mostly used for outdoor locations in Scottsdale. Daylighting sensors change the light in reference to the available natural light, and this reduces that chance that areas are being lit for no reason. A naturally well-lit room with a daylight sensor, a motion sensor and a schedule could feasibly use the bulbs for just a few hours per day because they are programmed to use every available resource to cut down on energy expenditure.
Business Lighting With A Twist
Igor is built with businesses in mind. This means that it can work on a larger scale and handle many more attached devices than the consumer level options. For businesses throughout Scottsdale, the automation provided by the app could significantly reduce the amount of time during a regular day that the lights are on, and your Scottsdale business could see a significant decrease in lighting bills (over and above the expected LED decrease) as a a result.