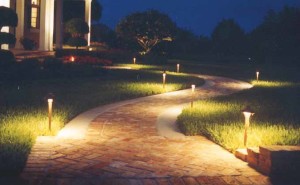 Are you searching for the right type of lighting for your home landscape in [city]? There are quite a few options to consider, each one offering benefits and advantages. Making the move to these eco-friendly options will not only benefit your electrical costs, it will also provide a more efficient method of lighting your yard.
Solar Lighting
Solar lights offer a number of advantages over other outdoor lighting options that are currently available. For example, they have no cords or wiring, which means the installation process is easy and quick. This also helps to minimize the potential for an accident when other people are in your yard. Additionally, solar lights offer an eco-friendly and energy-saving option since they are able to capture the sun's energy during the day and provide light for the exterior of your home when night falls.
LED Lighting
However, solar lighting is not the only efficient and eco-friendly option for you to consider when trying to light up your [city] yard. The efficiency of LED lighting is not just for inside. There are a number of ways that you can utilize LED lighting options in your yard – besides the over-the-top holiday displays they are so well known for. Some of the ways to utilize LED lighting for your landscape, making it look great and environmentally friendly, are highlighted here.
Garden Lighting
When you have a well-lit garden, it has the potential to provide a unique focal point to your space. There are thousands of homeowners who spend endless hours in the garden and then fail to highlight their hard work in the evening. In order to utilize the benefits offered by LED lighting in your garden you should choose a combination of LED accent lighting and low-voltage LED lighting.
LED Lighting for Safety and Security
LED spotlights emit a strong and far-reaching light beam to light up your landscape. You can also install motion sensors so the lights come on when there is movement detected outside. These lights offer an efficient, eco-friendly and affordable method for lighting your outside space. They can be installed on porches and patios as well, in addition to pool areas and detached garages and storage sheds. These lights will help to deter would-be intruders or thieves, since they will come on when motion is detected alerting you that someone is lurking.
Ensuring your landscaping lighting is green and efficient is not as difficult as you may think. In fact, when you use the lighting types here, you will find it helps to reduce your lighting bill and provide an eco-friendly option that is actually good for the environment and [city] community.
When you use less power, it means the power plants can produce less energy, which results in fewer emissions and pollution for everyone in the [city] community. Installing solar or LED landscape, outdoor lighting fixtures will ensure you can see in your yard at night, without driving up your costs, or impact on the environment.