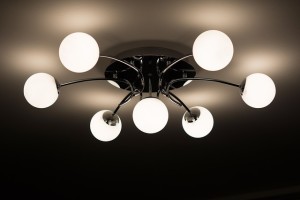 One of the best ways to jazz up your Scottsdale home using LED light bulbs is to buy the right set (or sets) of fixtures to bring out their lighting potential. Unfortunately, not everyone can afford to buy those large and fancy fixtures that cost more than all the contents in most people's living rooms combined. But that's not to say you can't make your home look like something out of a home and lifestyle magazine without having to spend thousands of dollars.
With the following tips below, you can give your home a stylish and beautiful look without having to spend too much.
Get a Chandelier
Chandeliers are often associated with luxury and grandeur. And for good reason, as a few centuries ago, only the rich and elite could afford these lavish fixtures, which were often made with crystals and all kinds of precious stones.
Many of today's chandeliers, however, now come in more affordable and contemporary styles, available at your nearest Home Depot for a few hundred dollars. For antiques, you can scour through yard sales and auctions for truly unique stales. And if you're creative enough, you can even make your own chandelier, DIY style. All you need is a base, synthetic crystals, and your imagination.
Use Black and White Fixtures
Black and white lighting fixtures exude a clean and simple elegance that's just timeless. For best results, pair these fixtures with LEDs with a cool color temperature—something closer to white than yellow. Black and white fixtures can come in lampshades, pendant-type lamps, and even sconces. Word to wise though: don't overuse them or else they can make a room look flat and boring.
Go For Metal Fixtures
If you want your room to have an industrial or modern atmosphere, metal fixtures, whether they're floor lamps, table lamps, or candelabras, will fit the bill. They're elegant and exude a fanciness that makes them look more expensive than they really are.
Pair your metal fixture s with LED light bulbs with a warm color temperature, and you have something that works great as a table lamp, accent light, or task light.
Spotlights for Task and Accent Lighting
Spotlights make for great additions to any home's lighting setup. They're also versatile enough to work as task lights or accent lights. For example, you can use a few spotlights to illuminate your kitchen's working areas, such as the center island or the sink. They can also be used to bring people's attention to focal points in a room you want people to look at, such as paintings, mantels, or photo frames.
Bonus Tip: Use Dimmers
Although technically not lighting fixtures, a dimming controller can have a dramatic effect on your home lighting, as it allows you to fine-tune the level or brightness of light generated by your LEDs. If you want a brightly lit living room to entertain guests, simply turn up your lighting. If you want low light for intimate conversations, turn your lights down.