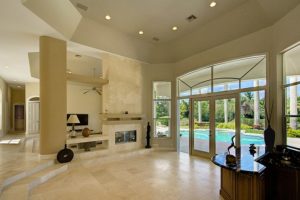 In many ways, the difference between cool light bulbs and warm light bulbs can be like night and day. To be more specific, the difference of the light generated by a cool LED and a warm LED can be likened to the light you see at high noon and the light you see in the minutes after sunrise and before sunset, respectively.
If you're in the process of retrofitting your Scottsdale home's lighting setup with LEDs, you're probably wondering what the labels 'cool' and 'warm' mean when it comes to lighting.  These terms refer to the 'color temperature' of a light source, that is, how blue (cool) or how warm (red) a light source is.
Here's everything you need to know about the differences between the two.
Cool LED Lighting and its Applications
Cool LED light bulbs have a distinct bluish-white light; similar to what you would see from the sun when it's at its highest in the sky. Below are a few ideal applications for these types of bulbs.
Working Spaces – Cool white light is brighter and closely resembles the quality of sunlight you see at noon. As such, this kind of lighting is best for spaces where you need to feel alert and awake; think of areas where productivity is needed, such as a home office, the garage, or your study spaces. The brighter your light source, the less likely you'll feel drowsy under it.
Kitchens – Given the level of activity that happens in the kitchen, it's not surprising why this part of the house requires cool and bright lighting. Good lighting will help you use sharp knives safely and see how you prepare your food clearly.
Outdoor Spaces – Cool LED light bulbs can also go a long way to keeping outdoor spaces bright and safe. In fact, many governments around the world have transitioned to LED streetlights with a cool glow, replacing the familiar orange glow of sodium lamps.
Warm LED Lighting and its Applications
Warm lighting has an orange to yellow tone, making it ideal for creating soft and moody lighting effects. This yellowish glow presents a number of great benefits for home lighting.
Living Rooms – Living rooms are great for warm LED lighting, especially if you want to create soft lighting for entertaining guests, or simply lounging around to watch TV or read.
Bathrooms – The bathroom is another great living space for relaxation. Think of long soaks in the tub after a tiring day of work. Aside from installing warm lights, you can also add dimmers to fine-tune your lighting brightness.
Bedrooms – And finally, no other place in your house deserves relaxing lighting more than your bedroom. After all, the last thing you want is to go home to a bedroom lit by bright, harsh lighting.
As you can see, your choice of whether to use cool or warm LED lighting for your retrofit ultimately boils down to application and preference. Think of how you want to use your lights—this should tell you everything you need to know about what lights to get.