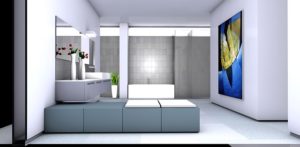 For several decades, the warm yellow glow of incandescent light bulbs has illuminated millions of households all over the world. This is swiftly changing today, as energy efficient light emitting diode (LED) light bulbs continue to get cheaper and become the primary option for home lighting.
If you are considering a lighting retrofit in your [city] home, you will be pleased to know that lighting manufacturers offer their LEDs with the most common fittings found in most homes today—these include E27 and E14 among many other options.
Not only that, the flexibility of LED lighting makes them truly ideal for interior home design. With some creativity and proper selection of LED light bulbs, you can create a wide range of unique lighting effects that enhance your home's interior spaces.
Below are a few ideas to do just that.
1. Choose LEDs that Flatter Existing Décor
Before choosing light bulbs of a particular color, be sure to consider how it plays off the surfaces of your interior spaces. Colored lighting generally works best with clean white surfaces, which reflect every wavelength of light.
In contrast, dark walls have a way of "drowning" colored lighting, and don't appear as visually pleasing. If you have walls and a ceiling in a non-white but bright color, your colored lighting will mix with that color, which means the lighting effect won't be as pronounced.
2. Use LED Lighting to Create Silhouettes
You don't have to settle for bathing walls and ceilings with light. You can create beautiful silhouettes by installing lights behind cutouts and dropped ceilings. Not only will this illuminate negative space in a novel way, it also diffuses your indoor lighting and cuts out glare.
For example, you can place your LED bulbs behind a mirror, at the top, another at the bottom, and on either side.
3. Install and Forget with Recessed Lights
If your home has high ceilings with hard to reach ceiling lights, consider installing LED light bulbs on these fixtures. LEDs do not need to be replaced for years because of their incredibly long lifespan and durability, making them a convenient option for hard to reach places.
Many manufacturers also produce LEDs specifically designed for recessed lighting, featuring ultra-low power consumption and coming in different color temperature options.
4. Use LED Strips in Dressing Rooms
Adding a few LED strips inside a walk-in closet or even your wardrobe is a nice touch that will help you choose your outfits with ease. Because LEDs come in a wide variety of shapes sizes, they can be arranged in practically any kind of layout you desire. For best results, mount LED strips on your clothes racks, inside drawers, or at the back of your dresser.
5. Mount LEDs on Stairwells
Small LED light bulbs can create unique lighting effects when installed on the treads or risers of your home's stairways. This kind of setup also adds a layer of security to your stairs. You can even hook the lights to a dimmer, which will generate the perfect lighting brightness depending on conditions.
When buying LED light bulbs, be sure to go for quality instead of quantity. Always choose a reliable brand, and if possible, avoid mixing and matching lights from different lighting makers.