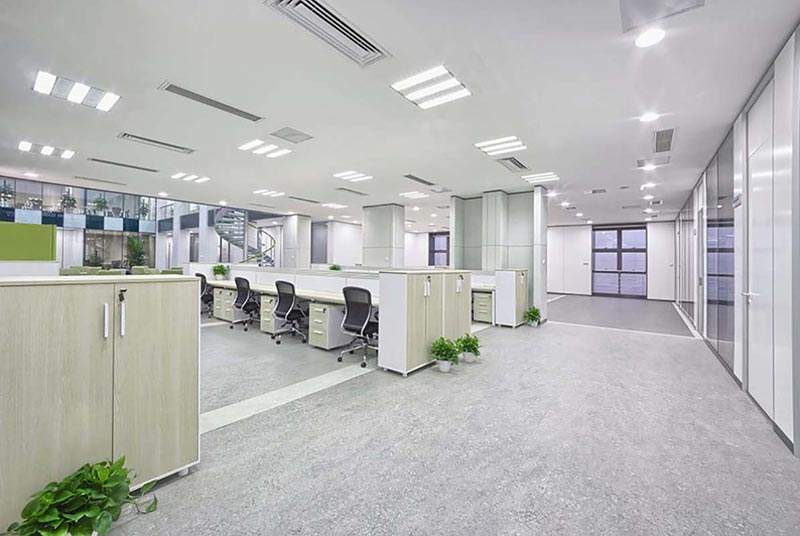 Of all the decisions that a business owner or operator needs to make, you might not think that "picking out light bulbs" is that big of a priority. Quite the contrary: Both commercial and industrial operations require a thoughtful lighting strategy in order to increase productivity, support employee health, and prevent avoidable accidents.
For office buildings in [city], commercial LED conversion is becoming the norm. Not only do LED light bulbs end up saving a ton on monthly electricity bills, but they also provide more control in terms of style, aesthetics, and function.
Here are some of the biggest trends in office lighting that we're seeing around [city]:
Designing Office Lighting to Boost Productivity
Lighting is one of the most influential factors in how well an employee is going to perform at work. In fact, levels of concentration, satisfaction, and overall well-being have all been directly linked to a workplace's light quality.
Fortunately, re-thinking your office's lighting strategy can be as easy as flicking a switch. Commercial LED lighting produces less glare than traditional fluorescent lighting, making workspaces immediately more comfortable to be in.
LEDs are also capable to being tied in to smart lighting control systems. These allow for temperature colors to change automatically over the course of the day, emulating the sun's natural cycle and increasing employee sleep quality.
Using Indirect Light to Create Contrast and Energy
One of the most common mistakes made in office lighting planning is the overuse of linear light. This is where a light source is pointed directly at the thing it is supposed to illuminate. While this kind of direct lighting might be necessary for production facilities and task areas, it can be a little overwhelming for interior office spaces.
Indirect light sources are an easy way to create contrast between different elements of the office space. Walls, ceilings, and walkways can all be used to reflect incoming light. This now only reduces glare and headaches, but it creates a more dynamic feel and can actually make your office space feel bigger.
Choosing the Right LED Color Temperature for your Office
LED light bulbs are available in a wide range of color temperatures, ranging from warm white to cool white, with natural white somewhere in between.
Warmer color temperatures are similar to traditional incandescent bulbs in terms of color. Warmer light tends to promote relaxation and coziness, so it is a good choice for break rooms, cafeterias, and seating areas.
Natural white bulbs are a bit cooler in temperature. These are ideal for office work and reading tasks. Blue light offers a more contemporary feel, but more importantly, it has been shown to increase concentration levels.
However, you don't want to go too cool with your office lighting. Once you get close to 6000K, the light is very sharp and blue, more suited for warehouses than office buildings.
Invest in a Commercial LED Conversion or LED Retrofit
Installing commercial LED light bulbs in your office building doesn't necessarily require a huge investment. Retrofit kits make it possible to install LED bulbs into your existing fixtures. This can increase your office light quality immediately, and you can expect your employees to appreciate the change.